2017-2018
Results
Fixture
Result
Score
Scorers
POTM
Apr 08 vs Bowdon
Apr
08
Bowdon
  A  
  [EH U16 Finals]  
(A)  EH U16 Finals
D

D  

1-1
Cameron Cooke
Tom Bailey
Apr 07 vs Team Bath Buccaneers U16
Apr
07
Team Bath Buccaneers U16
  A  
  [EH U16 Finals]  
(A)  EH U16 Finals
L

L  

0-4
Ben Millett
Apr 07 vs Surbiton U16
Apr
07
Surbiton U16
  A  
  [EH U16 Finals]  
(A)  EH U16 Finals
L

L  

0-14
Ben Millett
Mar 11 vs City of Peterborough U16
Mar
11
City of Peterborough U16
  H  
  [EH U16 R6]  
(H)  EH U16 R6
W

W  

4-3
Cameron Cooke,Cameron Cooke,Robert McCall,Edward Taylor
Saverio Iaccarino
Mar 11 vs Ipswich & ES U16
Mar
11
Ipswich & ES U16
  H  
  [EH U16 R6]  
(H)  EH U16 R6
W

W  

5-1
Cameron Cooke,Cameron Cooke,Cameron Cooke,Cameron Cooke,Ben Chapman
Cameron Cooke
Mar 11 vs Warwick
Mar
11
Warwick
  A  
  [EH U18 R6]  
(A)  EH U18 R6
D

D  

3-3
Harry Paterson,Ben Withers,Alex Merron
Billy Buckingham
Mar 11 vs Colchester U16
Mar
11
Colchester U16
  H  
  [EH U16 R6]  
(H)  EH U16 R6
W

W  

7-0
Ben Chapman,Ben Chapman,Cameron Cooke,Cameron Cooke,Raunaq Rai,Raunaq Rai,Harry Basset
Harry Basset
Feb 18 vs Lindum U18B
Feb
18
Lindum U18B
  A  
  [EH U18 R5]  
(A)  EH U18 R5
C

C  

C-C
Feb 18 vs Harleston Magpies U14B
Feb
18
Harleston Magpies U14B
  A  
  [EH U14 R5]  
(A)  EH U14 R5
L

L  

1-4
Rafe Lochore
Richard Mann
Feb 04 vs Blueharts U16B
Feb
04
Blueharts U16B
  H  
  [EH U16 R4]  
(H)  EH U16 R4
D

D  

1-1
Raunaq Rai
Harry Basset
Feb 04 vs Saffron Walden U14B
Feb
04
Saffron Walden U14B
  H  
  [EH U14 R4]  
(H)  EH U14 R4
W

W  

9-0
Ethan Rushton,Richard Mann,Richard Mann,Sam Hyatt,Freddie Paterson,Freddie Paterson,Toby Pallister,Oliver Moore,Pedro Salcines Rueda
Sam Hyatt
Nov 19 vs West Bridgford U18B
Nov
19
West Bridgford U18B
  A  
  [EH U18 R3]  
(A)  EH U18 R3
W

W  

10-0
Josh Bailey,Josh Bailey,Josh Bailey,Ben Withers,Harry Paterson,Ben Withers,Harry Paterson,Ben Withers,Harry Paterson,Daniel Phillips
Harry Paterson
Nov 19 vs City of Pererborough U16B
Nov
19
City of Pererborough U16B
  H  
  [EH U16 R3]  
(H)  EH U16 R3
C

C  

C-C
Nov 19 vs Braintree U14B
Nov
19
Braintree U14B
  H  
  [EH U14 R3]  
(H)  EH U14 R3
C

C  

C-C
Nov 05 vs Cambridge City U16B
Nov
05
Cambridge City U16B
  A  
  [EH U16 R2]  
(A)  EH U16 R2
W

W  

4-3
Ben Chapman,Harry Basset,Raunaq Rai,Saverio Iaccarino
George Harrad
Nov 05 vs IES U14B
Nov
05
IES U14B
  A  
  [EH U14 R2]  
(A)  EH U14 R2
W

W  

7-0
Rafe Lochore,Henry Baker,Toby Pallister,Rafe Lochore,Richard Mann,Freddie Paterson,Rafe Lochore
Jonty Black
Oct 15 vs Harleston Magpies U18B
Oct
15
Harleston Magpies U18B
  H  
  [EH U18 R1]  
(H)  EH U18 R1
L

L  

0-2
Rob Duffy
Oct 15 vs Harleston Magpies U16B
Oct
15
Harleston Magpies U16B
  H  
  [EH U16 R1]  
(H)  EH U16 R1
W

W  

6-0
Louis Hart,Cameron Cooke,Raunaq Rai,Raunaq Rai,Raunaq Rai,Raunaq Rai
Raunaq Rai
 

D (3-3)  

   11/03/2018 - MC
   vs Warwick (A / EH U18 R6)


HEARTBREAK FOR U18 BOYS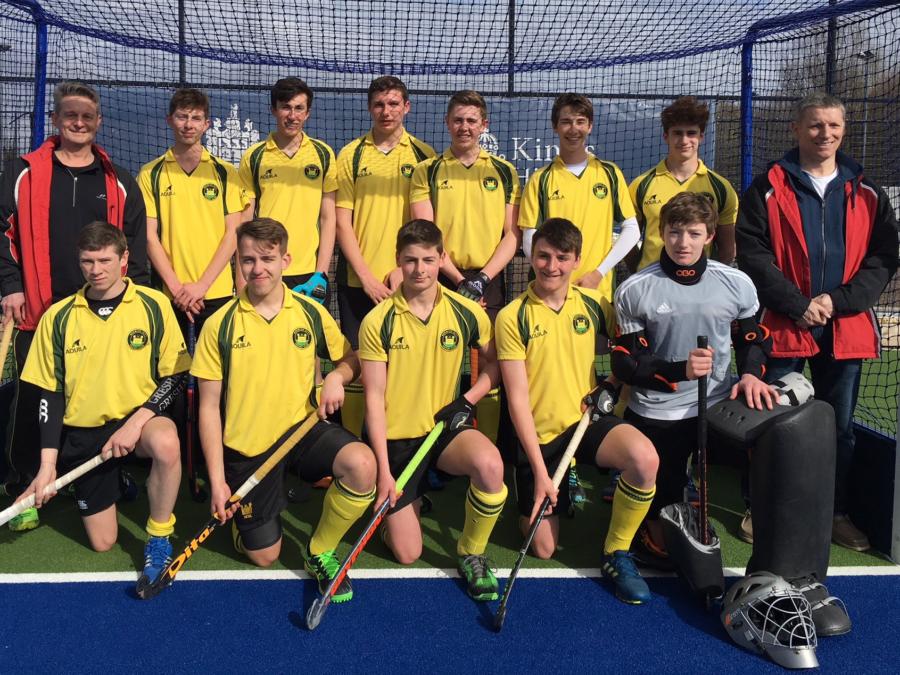 U18 BOYS XI - 11/03/2018 VS WARWICK (A)

TEAM: U18 Boys XI
DATE: 11/03/2018
FIXTURE: U18 Boys XI VS 11/03/2018
HEADLINE: Heartbreak for U18 Boys
LEAGUE: EH U18 Cup
VENUE: Warwick HC
RESULT: 3-3 Draw (Lost on Flicks)

REPORT:
City's U18 boys team travelled across England to Warwick on Sunday full of hope for their quarter final against Warwick HC in the U18 Cup. Ultimately it was to be a gutsy yet disappointing performance with City desperately unlucky to lose out.

After a week of making sure we had enough players for the fixture, City travelled with a strong but small squad of 11 players to Warwick HC. City started strongly and within 5 minutes Josh Bailey had dribbled into the D on the left and found Harry Paterson who calmly slotted the ball for a 1-0 win. City weren't playing their best but still were strong enough to be comfortably on top. The coaches were just preparing their half time talk when one of the umpires made a decision that was to change the match and have a huge influence on the result. Warwick were attacking our goal, when City Keeper Billy Buckingham made what appeared to be a great challenge for the ball. For reasons which no-one else could see (including the opposition coaches), the umpire awarded a penalty flick to the opposition as well as giving Billy a ten minute yellow card.

City valiantly fought to keep Warwick out of our D for the ten minute sin bin, but Warwick not only scored the flick, but also two other goals in the period to lead 3-1. City had a mountain to climb but, moved up several gears to put all the pressure on Warwick. Eventually, after good work from Paterson, stand-in striker Ross Butler scored City's second. Then with five minutes to go, the ball was crossed from the right and Alex Merron imperiously drove the ball home to level the scores. City attacked relentlessly for the last five minutes and when Josh Bailey's reverse stick shot just missed the goal at the end, we knew we were going to flicks.

The flick competition was tight but someone had to win and it was Warwick 4-3. We wish Warwick well in the next round. However, City justifiably felt hard done by in a match where we had scored three times and the opposition did not score any when we had a keeper on the pitch! Man of the match was Billy Buckingham who was imperious in goal, including making a couple of saves that seemed nigh on impossible, and who took the umpire's decision in a very mature way.

Thanks are due to all the parents for their support, everyone who searched high and low for players during the week, and to Frosty for his calm support on the bench. But most of all thanks to all the players in the squad, each of whom have been a pleasure to coach – and particularly those for who, after so many years representing City in the Minis and Juniors, this was their last junior game. It has been a great journey and all of us who have been on the journey with you (Al, Frosty, Geoff, Pies, Nigel etc….) have enjoyed it!




 

L (1-4)  

   18/02/2018 - MC
   vs Harleston Magpies U14B (A / EH U14 R5)


LOCAL RIVALS TAKE THE HONOURS
COLTS XI - 18/02/2018 VS HARLESTON MAGPIES U14B (A)

TEAM: Colts XI
DATE: 18/02/2018
FIXTURE: Colts XI VS 18/02/2018
HEADLINE: Local rivals take the honours
LEAGUE: EHA U14 Cup
VENUE: Magpies
RESULT: Magpies 4-1 City

After a few relatively easy cup games this was the top of the table clash for bragging rights as both teams qualified for the East Regional finals.

City started well with some excellent ball movement between the defence (Sam Hyatt and Archie Ward) and midfield (Henry Baker, Ethan Rushton, Harry Mackenzie, Jonty Black and Toby Pallister). Having looked good playing the passing possession game it was somewhat of a surprise when City almost seemed to panic with their good possession and had to endure a 10 minute spell of excellent defensive tackles followed by giving the ball back to their hosts. The defence held out courtesy of some good saves from Tommy Ringer in goal. The introduction of Rocco Iaccarino on City's left seemed to negate Magpies attacks down their right flank - a good, selfless display of doing a job for the team (sadly resulting in a reoccurrence of a heel injury which forced him out of the second half).

With the game ebbing and flowing City then started creating chances thanks to the midfield linking well with Richard Mann, Rafe Lochore and Freddie Paterson, Ethan and Oliver Millett up front. Magpies took the lead after about 25 minutes only for City to respond with a goal (Toby) that initially looked to have been awarded by the umpire only to be ruled out in almost the same blow of the whistle. 0-1 at half time.

The second half started in similar fashion with City moving the ball well and Magpies striking on the counter attack. The second goal was always going to be pivotal and it fell to the home side after a goal mouth melee involving multiple shots and multiple and crucial defensive tackles.
City nearly reduced the arrears from the restart when the home keeper was forced to make a string of saves. One excellent move down the right, Jack Whitlam to Richie, along the base line, slipped back to Jonty whose first time effort was well saved. With City pressing they were caught on the counter attack by the goal of the match. Not much the defence or the keeper could do!

Whilst it would have been easy for City's heads to drop they continued to fight to the very end and made it 3-1 thanks to a clinical Rafe strike. Then a string of saves denied Sam, Henry, Jonty, Richie, Rafe and Freddie (credit to Magpies keeper for some excellent if rather frustrating saves!). Again Magpies broke on the counter attack and extended their lead with five minutes to go. Still City fought and almost in a microcosm of the game, were awarded a final short corner on the stroke of full time which despite multiple attempts we just couldn't convert.

Final score 4-1 which felt a little flattering to the home side but nevertheless this was an excellent game played in the right spirit which kept the crowd on their feet to the very end.

Many of the City players had long periods during which they played particularly well (I was going to name then but happily realised that I'd be celebrating just about everyone). Overall my man of the match was Richie Mann.





 

W (9-0)  

   04/02/2018 - MC
   vs Saffron Walden U14B (H / EH U14 R4)


CITY SLICKERS SHOW NO MERCY
COLTS XI - 04/02/2018 VS SAFFRON WALDEN U14B (H)

TEAM: Colts XI
DATE: 04/02/2018
FIXTURE: Colts XI VS 04/02/2018
HEADLINE: City slickers show no mercy
LEAGUE: East tier
VENUE: Taverham Recreation Facility
RESULT: NCHC 9 - 0 Saffron Walden

REPORT:
Wow what a fantastic display showing control, versatility, some clinical finishing, some great defending and some fanstastic saves. I could stop there but that would be a disservice to a great bunch of U14 hockey players.

Hand on heart I can't remember the order of the goal scorers so I will celebrate some excellent play. Yes we dominated large parts of the game but we actually started by looking a bit congested in midfield, however normal service was resumed after about 5 minutes and City never looked back. Flowing moves down both flanks, aggressive and tenacious running and tackling in midfield and some splendid fast and dynamic running from a very quick forward line created numerous chances.. Rafe Lochore proved a real thorn in the visitor's side throughout the first half without quite managing to get 9n the scoresheet. In terms of the score, City finished the first half 4-0 up with two goals sticking in the memory (I) a fierce shot from the top of the D flew high and wide of the right hand post where Richie Mann used an overhead "tennis" hit high towards goal where Ethan Ruston utilised the same "tennis" style shot to hit the ball into the goal, and (ii) on the stroke of half time Pedro Salcines Rueda somehow managed to beat three players at the top of D before reversing a shot into the opposite top corner.

The score line suggests City were dominant from start, but this was far from the truth. The home defence of Archie Ward and Sam Hyatt, plus the ever alert Will Farrow in goal made sure there was not even a glimmer of a consolation goal. Our defenders set the standard and the rest of the team stepped up to the plate!

Despite multiple substitutions and positional changes City played some fantastic hockey in the second half. Oliver Moore was commanding at centre half with Henry Baker, Rocco Iaccarino and Jack Whitlam all providing attacking options as outside halves whilst being disciplined enough to thwart just about every counter-attack. Being able to rotate Jonty Black, Pedro and Toby as insides meant we retained our energy and attacking flare throughout whilst the forwards, Rafe Lochore, Richie Mann, Ethan Rushton, Freddie Paterson and Jack Whitlam just never stopped running, moving with purpose and pace on and off the ball. Without an excellent display by the visiting keeper City could have racked up a cricket score.

For the record the scorers were: Toby Pallister; Ethan Rushton; Freddie Paterson (2); Pedro Salcines Rueda; Oliver Moore; Richie Mann (2); and Sam Hyatt.

In such a complete performance there were a number of genuine candidates for man of the match with Sam Hyatt being the worthy winner.



 

W (10-0)  

   19/11/2017 - MC
   vs West Bridgford U18B (A / EH U18 R3)


A HAT-TRICK OF HAT-TRICKS FOR CITY U18 BOYS
COLTS XI - 19/11/2017 VS WEST BRIDGFORD U18B (A)

TEAM: Colts XI
DATE: 19/11/2017
FIXTURE: Colts XI VS 19/11/2017
HEADLINE: A Hat-trick of Hat-tricks for City U18 Boys
LEAGUE: EH Boys U18 Plate Competition
VENUE: West Bridgford
RESULT: WON 10-0

REPORT:

After a fortnight of scrabbling around to make sure we could field a full team, City Boys made the long journey to West Bridgford worthwhile with a convincing 10-0 win, including three hat-tricks.

City started exerting pressure from the very beginning and within 5 minutes had taken the lead with a powerful Josh Bailey reverse stick shot. City continued at pace and, when Ben Withers was taken down by the keeper when through on goal, skipper Bailey stepped up and converted the penalty flick. Bailey then finished off one of the fastest hat-tricks you will see by smartly smashing home his third after good work on the right by Dan Phillips. City were well in control now and, with no substitutes, started slowing the pace down to conserve energy. Ben Withers scored the next goal before Harry Paterson got in on the act following some really good work on the right by Nathan Sharp.

5 up at half time, City could afford to close down the match – or so the coaches thought. However, the players felt otherwise, and the West Bridgford goal was soon under siege again. Having hit the post and then had a great effort saved, Withers smashed in his second before Paterson did the same with a smart reverse stick shot. Withers made it a hat-trick with a shot from close to the byeline on the left hand side of the goal, before Paterson got the third hat-trick, dribbling through 3 players before nutmegging the keeper.

With Rob Duffy surging forward from the back, it was to be Phillips who scored the tenth and final goal with a really well taken effort. City had played well for a convincing win which made the six hour round trip worthwhile. However, credit is also due to a West Bridgford side who kept going until the final whistle.

Man of the match was a really difficult choice following a really good performance and with all the front five being strong contenders, but it goes to Harry Paterson for three really good goals, great passing and continuing to run into space right up to the final whistle.

The final word has to be a thank you to all the players and parents who gave up their day for such a long journey – you are all stars! Fingers crossed for a home tie in the next round.



 

W (4-3)  

   05/11/2017 - MC
   vs Cambridge City U16B (A / EH U16 R2)


THRILLING COMEBACK FROM A TWO GOAL DEFICIT
COLTS XI - 05/11/2017 VS CAMBRIDGE CITY U16B (A)

TEAM: Colts XI
DATE: 05/11/2017
FIXTURE: Colts XI VS 05/11/2017
HEADLINE: Thrilling comeback from a two goal deficit
CUP: ENGLAND HOCKEY U16 TIER 1 CHAMPIONSHIP
VENUE: PERSE SCHOOL
RESULT: CAMBRIDGE CITY U16 3 NORWICH CITY U16 4

REPORT:
City's Under 16 Boys worked extremely hard in the is England Hockey Under 16 Tier 1 Championship match and showed enormous resilience to come back from a two goal deficit against a good Cambridge side.
From the start City immediately found themselves on the back foot as the very talented Cambridge midfield player made significant in roads into the City defence, ghosting past players to create opportunities. Within 10 minutes City were two goals down and fighting an uphill battle. However, a combination of dogged defending by Tom Bailey, Cameron Husband, Malachy McDonnell, Reuben Cooke and man of the match George Harrad, allied to some top class goalkeeping by Ben Millett stemmed the goals. The City midfield of Cameron Cooke, Rio Iaccarino, Louis Hart, Ed Taylor and Elliot Fox were working hard to contain the Cambridge midfield and there were only rare forays into the Cambridge 23, but it was apparent that the Cambridge defence were the weak part of the team.
City took the opportunity to play with a high attacker, looking for long balls to bypass the Cambridge midfield. This eventually paid off as a ball played in from just over the half way line evaded the Cambridge defence and Ben Chapman who had drifted behind them deftly touched the ball past the keeper to give City a lifeline at the break.
After the break City increased their work rate and began to move the ball more quickly, with more pace and more accurately. The long balls were finding the City forwards and the Cambridge defence started to find themselves under pressure, giving the ball away to the advancing City players. The Cambridge midfield were seeing less of the ball and their influential player drifted out of the game. City then levelled when a ball was played through the home defence and Harry Basset was on hand to touch past the keeper. Much too the delight of the travelling supporters City then took the lead when Raunaq Rai converted a penalty corner. With ten minutes remaining City scored a fourth when Rio Iaccarino was on hand to tuck away a rebound off the goalkeepers pads.
Cambridge came back and City were forced to show real character as they worked hard to chase and harry the Cambridge players and though Cambridge pulled a goal back through a short corner City clung on to record an impressive victory.
A great game of hockey that was enjoyed by the supporters of both teams.

Special thanks to our band of travelling supporters and to Henry Wanchoo for stepping into umpire.



 

W (7-0)  

   05/11/2017 - MC
   vs IES U14B (A / EH U14 R2)


CITY DOMINATE LOCAL RIVALS
COLTS XI - 05/11/2017 VS IES U14B (A)

TEAM: Colts XI
DATE: 05/11/2017
FIXTURE: Colts XI VS 05/11/2017
HEADLINE: City dominate local rivals
LEAGUE: EHA U14 boys cup
VENUE: Ipswich School
RESULT: IES 0 - 7 NCHC

REPORT:
City dominated virtually the entire game and justly emerged victorious. The first half saw an exhibition of excellent running and passing with City's movement on and off the ball a delight to watch. Rafe Lochore opened the scoring in the 7th minute and doubled City's advantage in the 12th minute, but that only tells half the story. The midfield of Oliver Moore, Henry Baker, Rocco Iaccarino, Ethan Rushton and in particular Toby Pallister and Jonty Black were sublime and provided width, depth and attacking intent throughout the half. The forwards, Rafe, Richie Mann, Freddie Paterson, Jack Whitlam and Oliver Millett caused the opposition no end of problems with their intelligent running and incisive play.

City did not have it all their own way and one superb diving save to his right by Will Farrow from a rare IES penalty corner saw Joshua Means drive the ball out of defence, releasing a fantastic pass for Freeddie to Rafe that almost resulted in an awesome end to end goal. Despite their dominance City were again indebted to Will just before half time to ensure they went in 2-0 up.

The start of the second half saw a scrappy period of play where City lost a bit of shape and tried rather too much dribbling and 'glory' passes. Fortunately Archie Ward and Joshua stifled out any half chances IES might have had. An excellent Freddie Paterson goal seemed to calm the nerves and allowed City to return to the passing and moving game that had worked so well in the first half. With the home side beginning to tire City's power and genuine pace started to tell with Henry, Richie and Rafe adding 3 goals in just 3 minutes thanks to some quite delightful passing. Will then made another good save to retain a clean sheet before Toby put the icing on the cake for City's 7th goal.

In terms of reflections on the game:

* the attitude and effort from every player was excellent with players giving their all and realising substitutions were all about retaining intensity rather than 'because someone wasn't playing so well!' Which makes the coach's job so much easier;
* when we pass and move at pace we are a joy to watch; and
* occasionally we were a bit selfish - make sure our decision making is the best it can be (this is only a reflection because it'll matter more against really good teams).

Picking just one man of the match in such a good team performance is always hard and was a toss up between Toby and Jonty which Jonty just edged.

 

L (0-2)  

   15/10/2017 - MC
   vs Harleston Magpies U18B (H / EH U18 R1)


U18 BOYS LOSE OUT IN SHOWCASE GAME
U18 BOYS XI - 15/10/2017 VS HARLESTON MAGPIES U18B (H)

TEAM: U18 Boys XI
DATE: 15/10/2017
FIXTURE: U18 Boys XI VS 15/10/2017
HEADLINE: U18 Boys Lose Out in Showcase Game
LEAGUE: EH U18 Boys Championship
VENUE: Taverham
RESULT: Lost 0-2

REPORT:
On an unseasonably hot October day, two U18 Boys hockey teams chock full of talent slugged it out in front of a large crowd basking in the sunshine. Both City and Magpies had a large number of first and second team players on show, and the technical ability of both sides was something to behold.

Magpies started stronger, but City quickly came back, having several great chances to take the lead. Sadly our attacking line of Ben Withers, Alfie Cooper and James Hewett found they were up against a keeper having one of his best days, and saving everything including heading away one shot from close range! After a spell of City pressure, Magpies fought back and won a short corner, which they dispatched to take a 1-0 lead into the second half.

City's strong midfield of Josh Bailey, Harry Paterson, Dan Phillips and Jake Cushion were in a real battle against an equally strong Magpies midfield group. The match was end-to-end with no team clearly on top. In defence, we seemed to be keeping Magpies star forwards quiet, with Sam Bingham and Rob Duffy doing a great job of snuffing out the speedy forwards. With Billy Buckingham making smart saves when called up and the industrious Nathan Sharpe, Alex Merron and Fitz Hornor working hard to mark their opposite numbers, the next goal was key. On 'one of those days' for City, the goal was to go Magpies' way, again from a short corner which was well struck into a gap on the near post.

With the game ebbing away, City worked really hard to get a goal back, but it wasn't to be. The City coaches couldn't ask for any more from the players and it was just a shame that someone had to win. The City Boys now go into the plate competition and are hoping for a good cup run.




 

W (6-0)  

   15/10/2017 - MC
   vs Harleston Magpies U16B (H / EH U16 R1)


RAUNAQ RUNS RIOT
COLTS XI - 15/10/2017 VS HARLESTON MAGPIES U16B (H)

TEAM: Colts XI
DATE: 15/10/2017
FIXTURE: Colts XI VS 15/10/2017
HEADLINE: Raunaq runs riot
LEAGUE: EH U16 BOYS CHAMPIONSHIP
VENUE: TAVERHAM RECREATION FACILITY
RESULT: NORWICH CITY U16 6 MAGPIES U16 0

REPORT:
City open their Under 16 Boys campaign with a victory over local rivals Magpies thanks to the silky skills of player of the match Raunaq Rai.
City featured a couple of players, Cameron Cooke and Raunaq Rai, who have gained first team experience and they provided the foundation of the side. Several players from the younger year were introduced into the team and acquitted themselves well.
City took the lead after five minutes when Cameron Cooke took a quick free hit and dribbled into the circle before finding Louis Hart who converted. Ten minutes later it was Cameron Cooke who scored picking up the ball outside the 23, dribbling into the circle before unleashing a powerful reverse stick shot.
The City defence were well marshalled by Tom Bailey, with Cameron Husband making a some excellent last ditch tackles and Ben Millett thwarting any Magpies breakthroughs.
Raunaq Rai opened his account with a short corner drag flick and followed this up five minutes before the break with a dribble along the goalline beating a couple of defenders before slotting past the keeper.
After the break City started to run with the ball a little too much, but Raunaq Rai completed his hat trick with a carbon copy of his second. He then completed the scoring with a simple tap in after good pass from Tom Bailey found George Harrad who beat a defender and eliminated the keeper.