2018-2019
Results
Womens 2nd XI
East Division 2 North East
Fixture
Result
Score
Scorers
POTM
Oct 20 vs Watton 1
Oct
20
Watton 1
  H  
  [L]  
(H)  L
L

L  

0-2
Georgia Cleveland
Oct 13 vs Felixstowe 1
Oct
13
Felixstowe 1
  A  
  [L]  
(A)  L
W

W  

8-0
Sophia Basset,Milly Brown,Helen Busfield,Alice Gill,Rosie Humphrey,Rosie Humphrey,Irene Ramirez,Hannah Jarvis
Ellyn Roberts
Oct 06 vs Dereham 2
Oct
06
Dereham 2
  A  
  [L]  
(A)  L
W

W  

1-0
Rosie Humphrey
Lucy Tilbrook
Sep 29 vs Norwich Dragons 2
Sep
29
Norwich Dragons 2
  H  
  [L]  
(H)  L
L

L  

0-1
Helen Busfield
Sep 22 vs Bury St Edmunds 1
Sep
22
Bury St Edmunds 1
  A  
  [L]  
(A)  L
L

L  

0-2
Serena Scott
Sep 15 vs Norwich Dragons 2
Sep
15
Norwich Dragons 2
  H  
  [F]  
(H)  F
C

C  

C-C
Sep 08 vs Pelicans 1
Sep
08
Pelicans 1
  H  
  [F]  
(H)  F
C

C  

C-C
Sep 01 vs Harleston Magpies 3
Sep
01
Harleston Magpies 3
  A  
  [F]  
(A)  F
W

W  

7-2
Sophia Basset,Sophia Basset,Sophia Basset,Leigh-Ann Worrall,Hannah Jarvis,Hannah Jarvis,Rosie Humphrey
Sophia Basset
Aug 25 vs Norwich City 1
Aug
25
Norwich City 1
  A  
  [F]  
(A)  F
L

L  

0-2
Grace Kidner
 

W (8-0)  

   13/10/2018 - W2
   vs Felixstowe 1 (A / L)


8-0 WIN SOUTH OF THE BORDER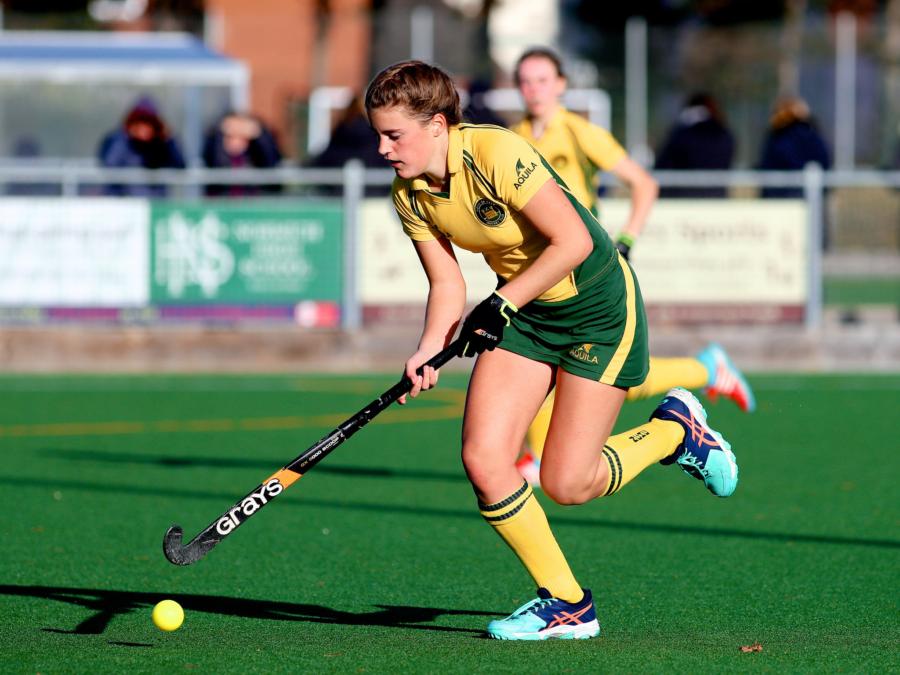 WOMENS 2ND XI - 13/10/2018 VS FELIXSTOWE 1 (A)

TEAM: Womens 2nd XI
DATE: 13/10/2018
FIXTURE: Womens 2nd XI VS 13/10/2018
HEADLINE: 8-0 win south of the border
LEAGUE: EAST DIVISION 2 NORTH EAST
VENUE: Felixstowe
RESULT: Win 8-0

REPORT:
With a strong squad and still buzzing from a well deserved win last week, the girls were ready and raring to get another win. The first 20 minutes were a challenge - a slow pitch saw us trying to settle into our usual type of slick play, but it took longer than we expected. However, a goal from Rosie Humphrey halfway into the first half from a good run from Sophia Basset relaxed the team and we began to play our usual flowing hockey. This was closely followed by a goal from Hannah Jarvis which saw us go into half time with the upper hand.
Filled with confidence from our good link up play that we finished the first half with, we started even stronger in the second half. The goals soon followed from Alice Gill, a second from Rosie, and a fabulous team goal that came from slick transferring round the back up to the right wing allowing our debutant player Irene Ramirez to strike an unstoppable shot into the top right corner. This was proceeded by a strong reverse shot from Sophia, a well-executed short corner strike from captain Helen Busfield and finally a follow-up shot from Milly Brown.
We did well to keep a clean sheet, especially after Serena Scott's interesting clearance straight to their centre forward who nearly got a shot away. Maybe this was to spice the game up a bit from a defensive point of view, particularly since Serena only had to touch the ball four times during the whole match!
A great performance and a fabulous win - well done girls!

 

L (0-2)  

   22/09/2018 - W2
   vs Bury St Edmunds 1 (A / L)


DISAPPOINTING LOSS AT BURY
WOMENS 2ND XI - 22/09/2018 VS BURY ST EDMUNDS 1 (A)

TEAM: Womens 2nd XI
DATE: 22/09/2018
FIXTURE: Womens 2nd XI VS 22/09/2018
HEADLINE: Disappointing loss at Bury
LEAGUE: EAST DIVISION 2 NORTH EAST
VENUE: Bury
RESULT: 0-2

REPORT:
We travelled down the A11 to Culford, a much needed caffeine fix for Frankie Birkenhead and we met in changing room 4 for a pre-match talk.

A very strict warm up from our illustrious new captain; stretch, sprint, lunge, bellowed aloud.

First half start strong for both sides with much of the game from one end of the pitch to the other so long balls through from Frankie and the odd chip, through to Hannah Bush and Lucy Tilbrook, City played their game much to the frustration of Bury who had a couple of decent players hanging around up front. As we got into the first half Bury started to pile on the pressure with strong balls into the D, we changed tack and held our own in what was turning to be a defence first half. Some gritted determination from all of the team - first half finished 0-0.

Half time team talk - direct and to the point with the added addition of sugar!

Both teams opened up strong with no clear way through play went round the back with three touch hockey we were back in their half, via Rosie Humphrey and Jenny Stanghan not for long as the ball came thundering back, 20mins in Bury won a short corner clearing it off the line, score sheet was still 0-0. City then won a couple of short corners but failed to convert, with a long ball into the D, city keeper came off the line clear the ball and took the player. Bury fought back and with a straight ball sneaked one in the back of the net - 1-0. Play continued with the pressure being piled on we were now playing in our half with everyone back, im not really sure what happed in the second goal as it was a bit hectic in defence with Milly Brown even venturing down there.
However the final score was 2-0.

There are lots of positives to take from Saturday, so don't be down hearted, we worked really well as team, true spirit, didn't give up and you will all have ribbons to wear next week!