2017-2018
Results
Recent Results (Mens)
14 Oct 2017 / 20 Oct 2017
Fixture
Result
Score
Scorers
POTM
M1
Oct 14 vs Dereham
Oct
14
Dereham
  H  
  [L]  
(H)  [L]
D

D  

1-1
Dave Skinner
Alastair Cooke
M2
Oct 14 vs Harleston Magpies 2
Oct
14
Harleston Magpies 2
  A  
  [L]  
(A)  [L]
L

L  

0-1
Ben Millett
M3
Oct 14 vs Ipswich 2
Oct
14
Ipswich 2
  H  
  [L]  
(H)  [L]
W

W  

3-2
Rees Leonard,Ben Cushion,Jack Luther
Ben Cushion
M4
Oct 14 vs Norwich Dragons 2
Oct
14
Norwich Dragons 2
  A  
  [L]  
(A)  [L]
L

L  

3-4
Matthew Brine,Joe Cowan,Jagdev Singh Saran
Mark Circuit
M5
Oct 14 vs  Harleston Magpies 4
Oct
14
Harleston Magpies 4
  H  
  [L]  
(H)  [L]
W

W  

2-1
Andrew Cook,Andrew Cook
Andrew Cook
M6
Oct 14 vs Watton 2
Oct
14
Watton 2
  A  
  [L]  
(A)  [L]
W

W  

3-1
Chris Coupland,James Smith,David Kidner
Luke Keeley
M7
Oct 14 vs Dereham 4
Oct
14
Dereham 4
  H  
  [L]  
(H)  [L]
W

W  

2-1
Alex Tomkinson,Elliot Fox
Elliot Fox
MC
Oct 15 vs Harleston Magpies U18B
Oct
15
Harleston Magpies U18B
  H  
  [EH U18 R1]  
(H)  [EH U18 R1]
L

L  

0-2
Rob Duffy
MC
Oct 15 vs Harleston Magpies U16B
Oct
15
Harleston Magpies U16B
  H  
  [EH U16 R1]  
(H)  [EH U16 R1]
W

W  

6-0
Louis Hart,Cameron Cooke,Raunaq Rai,Raunaq Rai,Raunaq Rai,Raunaq Rai
Raunaq Rai
MD
Oct 14 vs Harleston Magpies
Oct
14
Harleston Magpies
  A  
  [L]  
(A)  [L]
L

L  

3-5
Oliver Moore,Jack Whitlam,Corey Rushton
Ethan Rushton
 

D (1-1)  

   14/10/2017 - M1
   vs Dereham (H / L)


LOCAL DERBY REIGNITES HEALTHY RIVALRY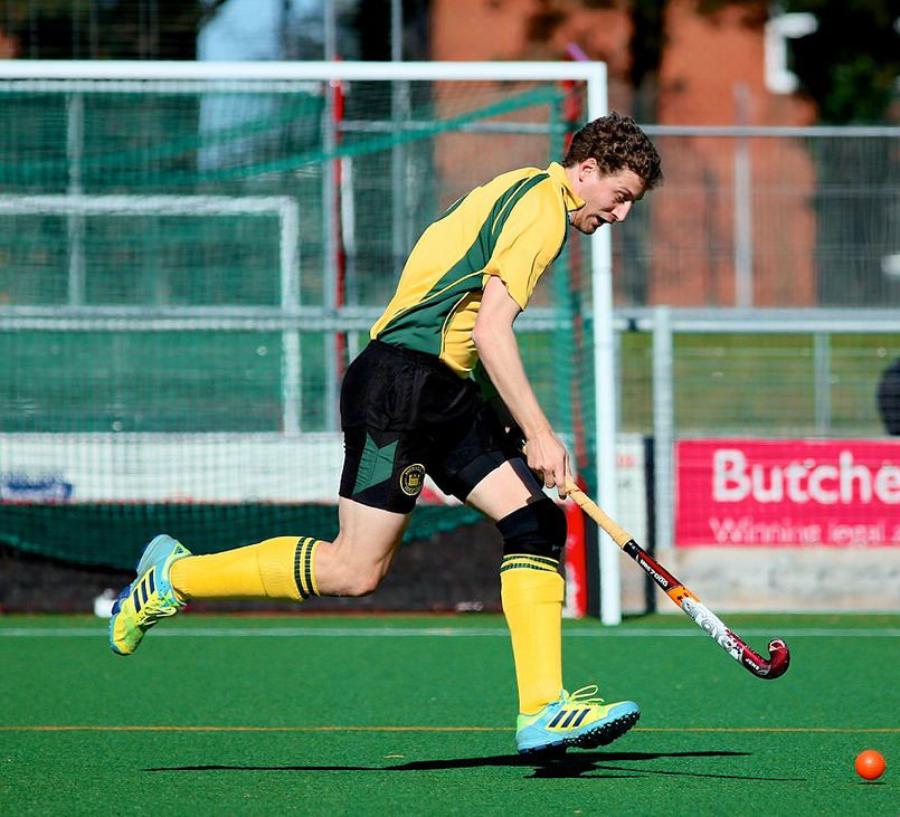 MENS 1ST XI - 14/10/2017 VS DEREHAM (H)

TEAM: Mens 1st XI
DATE: 14/10/2017
FIXTURE: Mens 1st XI VS 14/10/2017
HEADLINE: Local derby reignites healthy rivalry
LEAGUE: EAST PREMIER DIVISION B
VENUE: TRF
RESULT: 1-1

REPORT:
Saturday's match saw the first league meeting between local rivals Norwich City and Dereham in a few years. The opening engagements were a tight affair, with both teams not letting the occasion of the local derby get to them. The best chances came through short corners. Firstly Dereham hit the bar off a straight drag flick and then Norwich used a left slip, far post deflection but unfortunately Raunaq Rai was unable to convert the waist high ball. Dereham found the break through from a short corner when, rather fortunately for them, the ball was deflected back into the danger area past the goalkeeper for an easy put away into an open net. Half time came with Norwich 1-0 down, but knowing they were well in the game and had every chance of turning the score line around.
City started the second half well and shortly after half time managed to equalise when Tom Cox hit an upright reverse half volley across goal for Dave Skinner to deflect in the near post. Again, throughout the second half there were a number of short corner opportunities, but none of them were converted by either side. Alastair Cooke then managed to keep the scores level when expertly saving a deflection that was bound for the top left corner with his stick. As the match neared its conclusion the game became very stretched with neither side clearly willing to settle for the draw and both going for the winner. Despite a number of chances with men over for attacking players on both sides, the finishing touches were lacking and the game finished up 1-1 in a more exciting affair than the scoreline suggests; it could just as easily have ended up 4 or 5 all. Overall, the game was played in a good spirit though both teams came away disappointed not to have grabbed a win.



 

L (0-1)  

   14/10/2017 - M2
   vs Harleston Magpies 2 (A / L)


SILVY SEES RED AS CITY LOSE CLOSE GAME
MENS 2ND XI - 14/10/2017 VS HARLESTON MAGPIES 2 (A)

TEAM: Mens 2nd XI
DATE: 14/10/2017
FIXTURE: Mens 2nd XI VS 14/10/2017
HEADLINE: Silvy sees red as City lose close game
LEAGUE: EAST DIVISION 2 NORTH
VENUE: Harleston
RESULT: 1-0 loss

REPORT:
A good performance with a lot of positives, but our clinicality and discipline let us down.
In the first half, good chances went to both teams in an even first period. Harleston's main chance saw a deflected PC routine saved expertly at full stretch by Millett in goal, City's chances were limited to a couple of PCs that ended up wide of the post.
The second half started with the only goal of the game; the Harleston player ran from the halfway line, beating two players before for firing into the bottom corner. City came out after that and had and pushed for an equaliser, but that only led to counter attacks and heavy pressing. A number of chances late on for both teams, but the game was overshadowed by two cards for City in the final few minutes, as Jez saw a lengthy yellow card and Silvy saw red for language after a yellow card was originally given.
Unlucky for city in the end, but both teams could have scored more goals.

 

L (3-4)  

   14/10/2017 - M4
   vs Norwich Dragons 2 (A / L)


SCORCHED BY THE DRAGONS
MENS 4TH XI - 14/10/2017 VS NORWICH DRAGONS 2 (A)

TEAM: Mens 4th XI
DATE: 14/10/2017
FIXTURE: Mens 4th XI VS 14/10/2017
HEADLINE: Scorched by the Dragons
LEAGUE: EAST DIVISION 3 NORTH EAST
VENUE: Dragons Den
RESULT: 4:3

REPORT: Following some mixed performances of late, Norwich City 4s were looking to upset the league's early pacesetters and improve on their recent results. A lively first 15 minutes saw both teams make inroads into their opponents halves but a combination of assured defending and poor decision making from both attacking forces kept the scores level. City grew in confidence and took the lead as Matthew Brine slotted home the opener after good work from Cowan and Circuit. This new found belief however was short lived as within minutes of the restart a lapse of concentration gave Dragons a way back into the game. More heartache was to follow shortly afterwards as a strong pass across the goalmouth by Dragons was inadvertently deflected into his own goal by City's captain Dale. A reshape at half time and a strong start saw City draw level within a minute of the restart as Cowan finished from close range at the second attempt from a short corner.
Again City were made to pay for some indecision as Dragons scored from their own short corner midway through the second half to retake the lead. With City piling forward looking for the equaliser, Dragons scored from the penalty spot and looked home and dry. City had their own penalty corner awarded with seconds left and Defender Jag scored sweetly into the top corner to reduce the arrears but time ran out for City who bravely fought to the end.
MOM Mark Circuit

 

W (2-1)  

   14/10/2017 - M7
   vs Dereham 4 (H / L)


NARROW VICTORY
MENS 7TH XI - 14/10/2017 VS DEREHAM 4 (H)

TEAM: Mens 7th XI
DATE: 14/10/2017
FIXTURE: Mens 7th XI VS 14/10/2017
HEADLINE: Narrow Victory
LEAGUE: EAST DIVISION 6 NORTH EAST (NORTH)
VENUE: TAVERHAM RECREATION FACILITY
RESULT: NORWICH CITY 7 2 DEREHAM 4 1

REPORT:
City moved to the top of the embryonic table with a narrow victory in an enjoyable encounter played on an unexpectedly warm October morning.
City with their youngest adult team for some time took an early lead when a cross from the left looped over the goalkeeper and found Alex Tomkinson waiting at the far post to knock home at head height. Although City enjoyed the lions share of possession to create inroads into the Dereham defence the visitors took advantage of their counter attacks to create chances of their own. However, there was no further score before the break.

The game followed a similar vein in the second period, but with ten minutes remaining Dereham were a little fortuitous to equalise. City were not be denied and with the clocking ticking down player of the match Elliot Fox picked the ball up just outside the 23 and weaved his way into the circle before firing past the keeper.

 

L (0-2)  

   15/10/2017 - MC
   vs Harleston Magpies U18B (H / EH U18 R1)


U18 BOYS LOSE OUT IN SHOWCASE GAME
U18 BOYS XI - 15/10/2017 VS HARLESTON MAGPIES U18B (H)

TEAM: U18 Boys XI
DATE: 15/10/2017
FIXTURE: U18 Boys XI VS 15/10/2017
HEADLINE: U18 Boys Lose Out in Showcase Game
LEAGUE: EH U18 Boys Championship
VENUE: Taverham
RESULT: Lost 0-2

REPORT:
On an unseasonably hot October day, two U18 Boys hockey teams chock full of talent slugged it out in front of a large crowd basking in the sunshine. Both City and Magpies had a large number of first and second team players on show, and the technical ability of both sides was something to behold.

Magpies started stronger, but City quickly came back, having several great chances to take the lead. Sadly our attacking line of Ben Withers, Alfie Cooper and James Hewett found they were up against a keeper having one of his best days, and saving everything including heading away one shot from close range! After a spell of City pressure, Magpies fought back and won a short corner, which they dispatched to take a 1-0 lead into the second half.

City's strong midfield of Josh Bailey, Harry Paterson, Dan Phillips and Jake Cushion were in a real battle against an equally strong Magpies midfield group. The match was end-to-end with no team clearly on top. In defence, we seemed to be keeping Magpies star forwards quiet, with Sam Bingham and Rob Duffy doing a great job of snuffing out the speedy forwards. With Billy Buckingham making smart saves when called up and the industrious Nathan Sharpe, Alex Merron and Fitz Hornor working hard to mark their opposite numbers, the next goal was key. On 'one of those days' for City, the goal was to go Magpies' way, again from a short corner which was well struck into a gap on the near post.

With the game ebbing away, City worked really hard to get a goal back, but it wasn't to be. The City coaches couldn't ask for any more from the players and it was just a shame that someone had to win. The City Boys now go into the plate competition and are hoping for a good cup run.




 

W (6-0)  

   15/10/2017 - MC
   vs Harleston Magpies U16B (H / EH U16 R1)


RAUNAQ RUNS RIOT
COLTS XI - 15/10/2017 VS HARLESTON MAGPIES U16B (H)

TEAM: Colts XI
DATE: 15/10/2017
FIXTURE: Colts XI VS 15/10/2017
HEADLINE: Raunaq runs riot
LEAGUE: EH U16 BOYS CHAMPIONSHIP
VENUE: TAVERHAM RECREATION FACILITY
RESULT: NORWICH CITY U16 6 MAGPIES U16 0

REPORT:
City open their Under 16 Boys campaign with a victory over local rivals Magpies thanks to the silky skills of player of the match Raunaq Rai.
City featured a couple of players, Cameron Cooke and Raunaq Rai, who have gained first team experience and they provided the foundation of the side. Several players from the younger year were introduced into the team and acquitted themselves well.
City took the lead after five minutes when Cameron Cooke took a quick free hit and dribbled into the circle before finding Louis Hart who converted. Ten minutes later it was Cameron Cooke who scored picking up the ball outside the 23, dribbling into the circle before unleashing a powerful reverse stick shot.
The City defence were well marshalled by Tom Bailey, with Cameron Husband making a some excellent last ditch tackles and Ben Millett thwarting any Magpies breakthroughs.
Raunaq Rai opened his account with a short corner drag flick and followed this up five minutes before the break with a dribble along the goalline beating a couple of defenders before slotting past the keeper.
After the break City started to run with the ball a little too much, but Raunaq Rai completed his hat trick with a carbon copy of his second. He then completed the scoring with a simple tap in after good pass from Tom Bailey found George Harrad who beat a defender and eliminated the keeper.



 

L (3-5)  

   14/10/2017 - MD
   vs Harleston Magpies (A / L)


MAGPIES KEEPER THWARTS DEVS ONSLAUGHT
MENS DEVELOPMENT XI - 14/10/2017 VS HARLESTON MAGPIES (A)

TEAM: Mens Development XI
DATE: 14/10/2017
FIXTURE: Mens Development XI VS 14/10/2017
HEADLINE: Magpies keeper thwarts Devs onslaught
LEAGUE: NORFOLK DEVELOPMENT LEAGUE
LEAGUE SPONSORS: EMPRESA LIMITED
VENUE: Harleston
RESULT: Harleston Magpies 5 - 3 Norwich City

REPORT:
Whilst another young City side lost 5-3 they could easily have won 10-4 had it not been for an outstanding performance by the home team's keeper. We must have had 30 plus shots, the vast majority of which were on target, yet we hit at them at the roof, the corners, round the keeper an invariably we came away without a goal.

The first quarter saw a front 3 of Ethan Rushton, Freddie Paterson and Harry Ford creating chance after chance only to see shot after shot saved. Two somewhat scruffy break away goals flattered the home side at the first break. A quick celebration of how they were playing and a reminder of defensive positioning saw much the same pattern of play in the second quarter. With half the team arriving strainght from a rugby tournament a tactical switch moving Ethan into left half added real solidity to the team and a fast break away added to City's woes to leave the half time score 3-0. Not much Will Morrissey could have done for any of the goals.

City showed real character and a never say die attitude to make the score 3-1, thanks to. Great sideline hit from Henry Baker, to Sam Hyatt on to Harry for Jack to tap in. 3-1 soon became 3-2 than to. Corey Rushton tap infollwoing yet another flowing move including Oliver Moore, Jonty Black and Henry Baker. Just as it looked like City they had finally found a way to beat the home keeper a brilliant fast breakaway move made it 4-2.

Despite being shattered the team continued to get stuck in and made it 4-3 thanks to a delightful dribble through the D and round the keeper from Oliver Morre. Another goal line scramble made it 5-3 with City just failing to make it 5-4 with a final short corner.

A great game, with some fine performances from the experienced players very ably supported by our 3 U12s, Harry Ford, Krishna Patel and Corey Rushton.

The man of the match was Ethan Rushton for playing virtually the whole of the first half as a very good left wing and then producing some fine tackles and some very good reading of the game when he switched to midfield.

Thank you all.

<
>
Club Statistics